Lovely Puerto Rican Milf babe Ariana Marie squirts in her sex swing as she takes on a big hard cock! Enjoy the free clip, and just click on the link below to see the whole movie:
CLICK HERE TO SEE THE FULL ARIANA MARIE SEX SWING MOVIE IN HD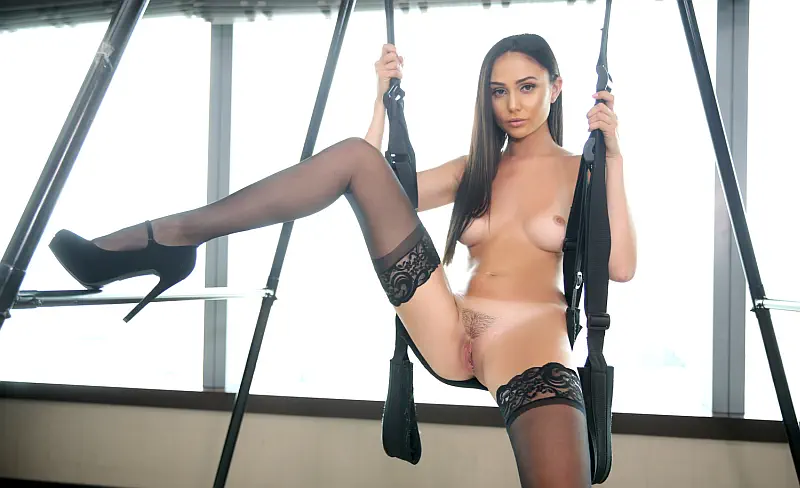 Ariana Marie wakes up in the morning and the first thing that comes to mind isn't breakfast. It's her thirst for cock that gets her going more than anything else. She has recently bought a new sex swing and is eager to put it, and her pussy, to use.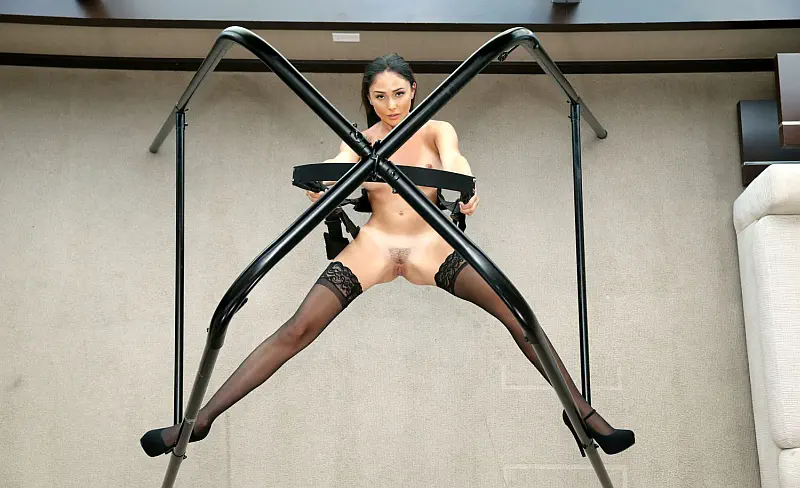 This sultry young Latina milf oozes sex appeal in her slim 5 ft 5 inches body frame dressed in sheer black lingerie and stockings and high heel stilettos as she greets her man at the door and wastes no time in sticking her tongue down his throat for a bit of saliva swapping to wet her whistle.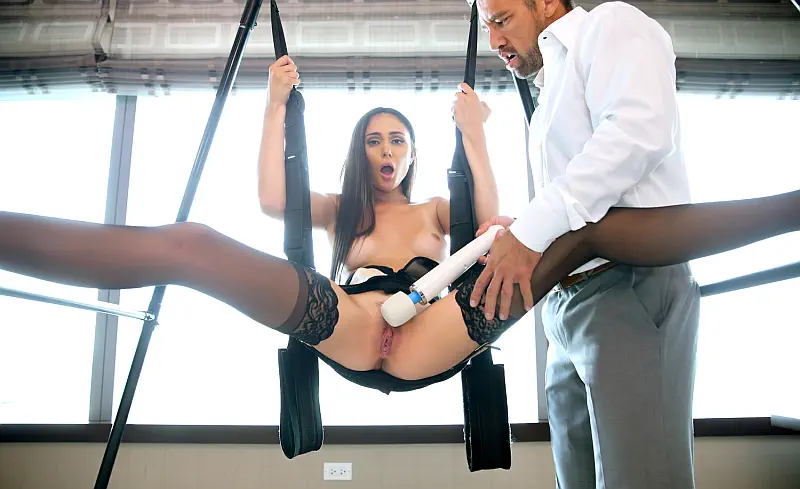 Before you know it, our hunky stud whips off her lingerie to expose her pert natural 32C breasts for a quick fondle while working his way down to her finely trimmed pussy zone and once he manages to get over the hurdle of unbuttoning her bodysuit with one hand, he gently rubs that pink taco to get her pussy juices flowing.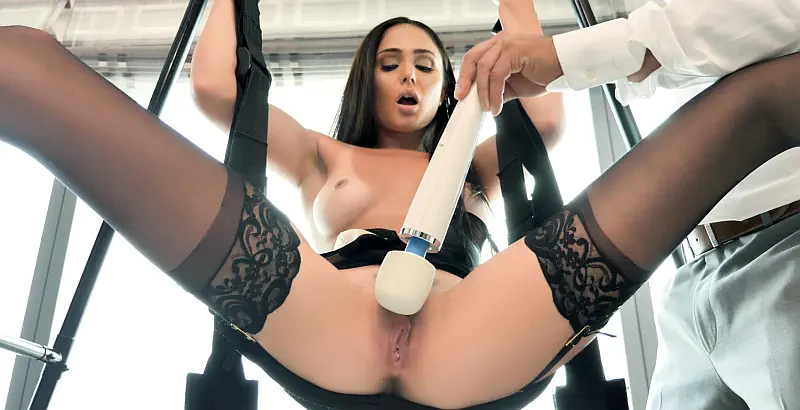 Ariana is a sucker for some intense clit stimulation and Johnny whips out the famed Hitachi Wand to work some magic right on that wet pussy and send her into fits and spasms of pure delight. It doesn't take long for this horny slut to start dripping her cunt juices as she writhes in pleasure on her swing.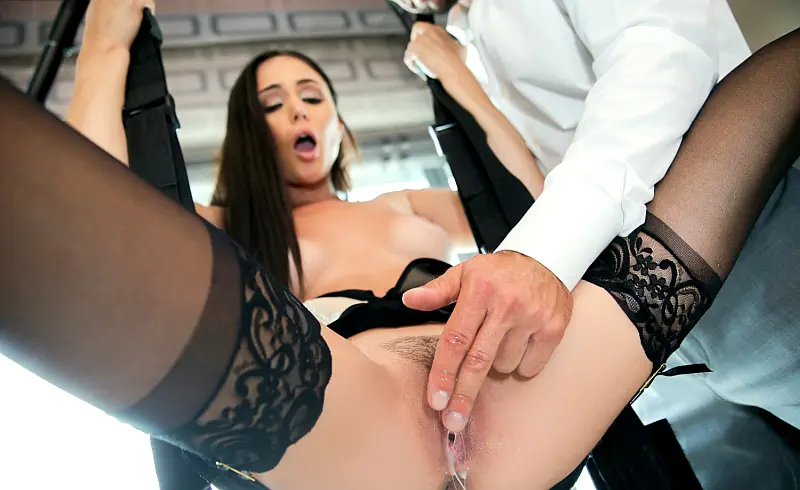 Not content with the wonders of the Magic Wand, Johnny sticks his fingers deep inside Ariana's now soaking wet twat and gives her a good hard frigging until she orgasms and squirts some more hot creamy pussy juice out of pure joy.
The horny couple start to get a bit more adventurous and Ariana proceeds to give an almost upside down blowjob, kinda like that kinky kiss Kirsten Dunst gets from Tobey Maguire in Spiderman (2002).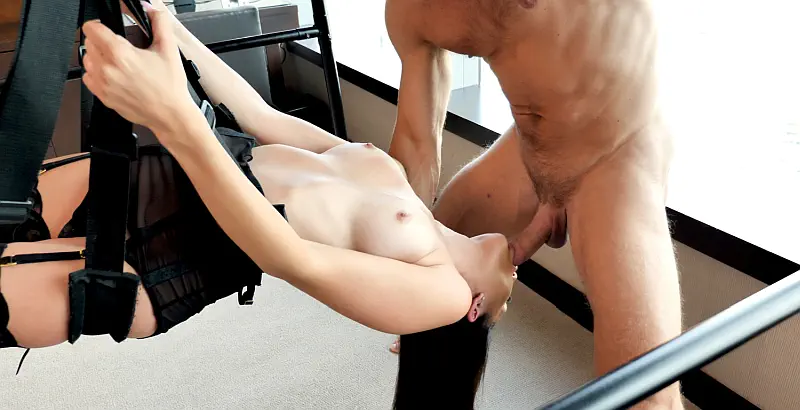 What ensues is the finest topsy-turvy blowjob you'll ever see as Ariana takes the full length of cock deep inside her yapper, while Johnny thrusts in and out, occasionally pulling his mighty fuck pole out of her mouth to give her some much needed air.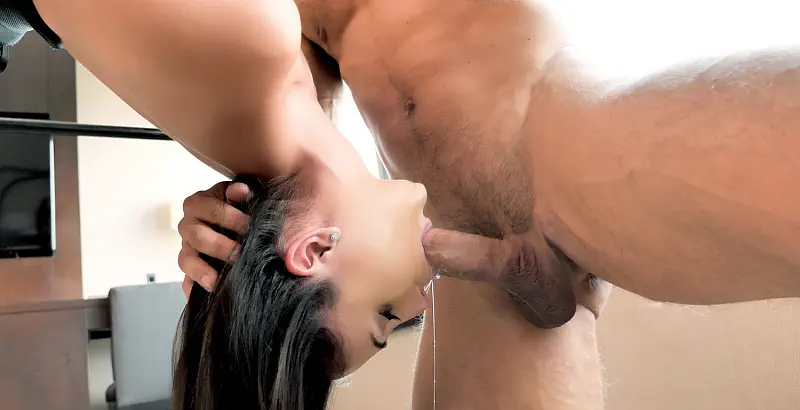 All the blood (not to mention excitement) has probably rushed to her head by now, so it's time to regain her posture in an upright manner and catch her breath, but Johnny has other ideas and continues to ram his meaty rod deep down Ariana's throat and the more than willing slut starts to gag and dribble her spit as she gratefully chokes on it.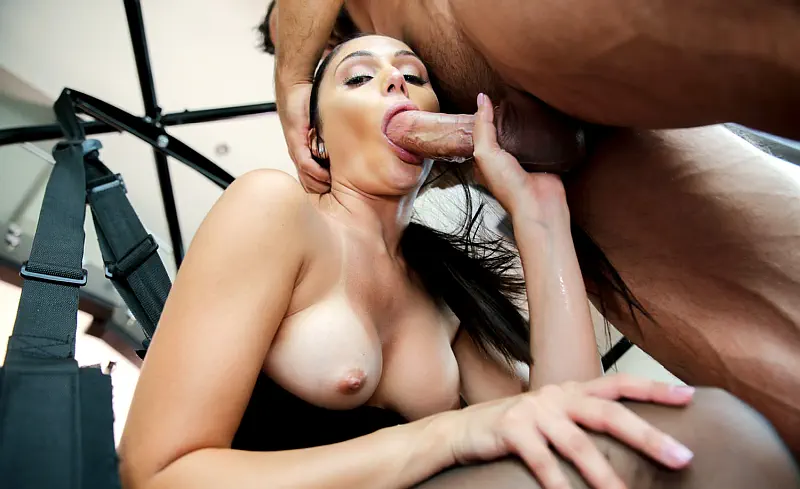 Damn this girl knows how to give a fucking good suck job, that's for sure!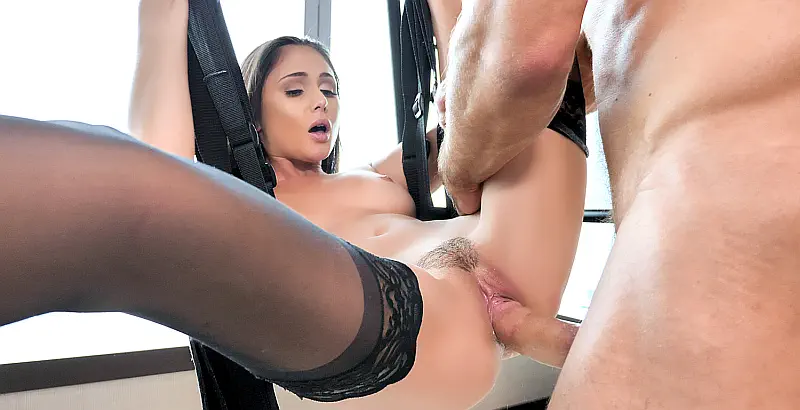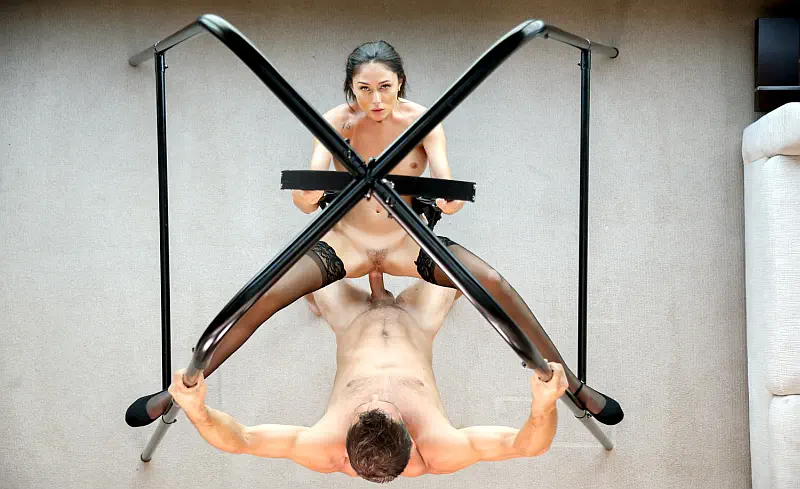 She then spreads those gorgeous long legs while still in her sex swing and Johnny lines himself up to go deep inside her sweet pink rabbit hole with his pulsating cock, relentlessly ramming it hard and fast, much to her delight.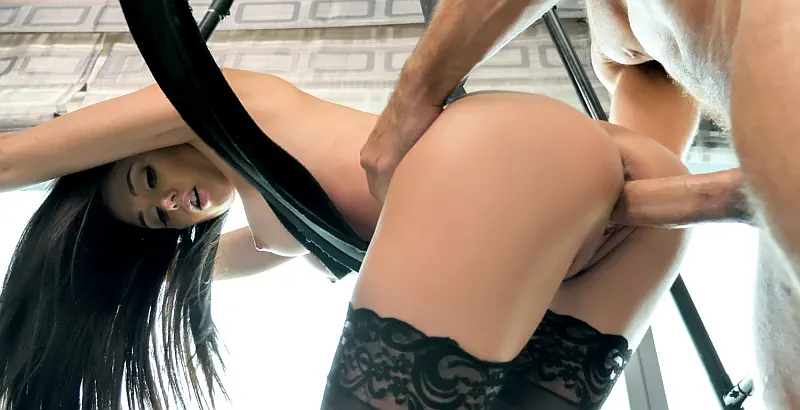 A quick swap of position now sees Ariana bending over her swing and taking a good doggystyle pounding from behind as her free swinging tits wobble with each thrust of the spam javelin in her tight wet cunt.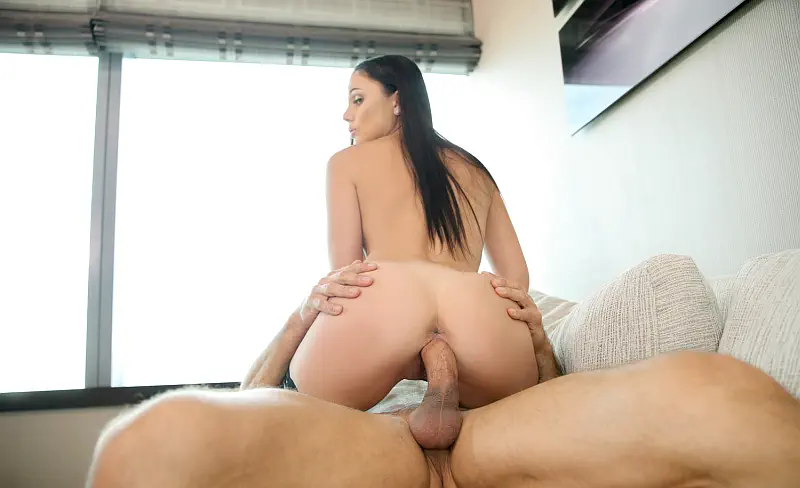 The action then moves to the more comfortable sofa and Ariana lowers herself onto Johnny's throbbing shaft cowgirl style, and he goes wild, fucking her so hard, with his balls slapping against her hot ass at the same time.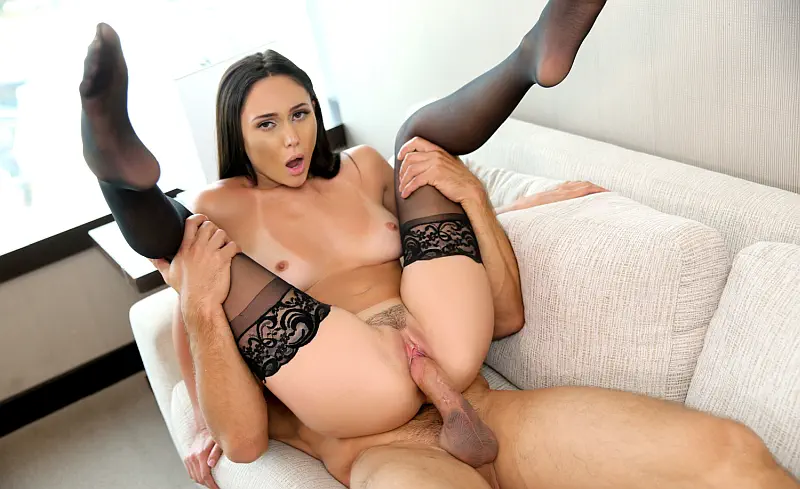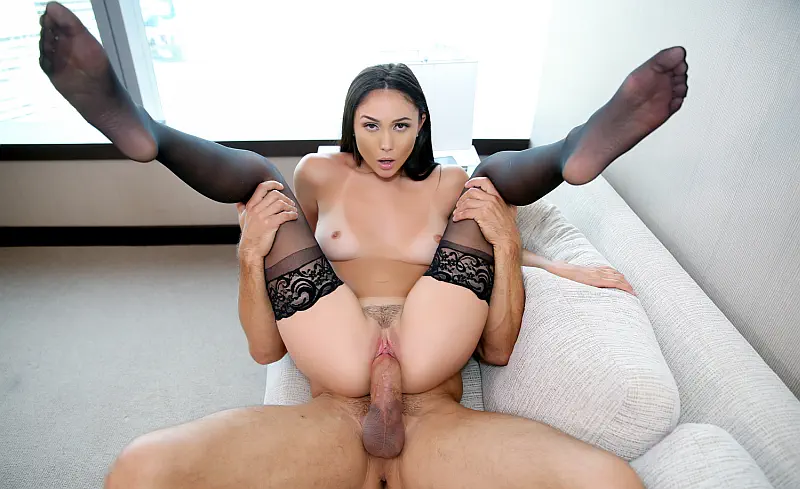 Johnny wastes no time in upping the ante and blasts his cock rocket into Ariana's black hole, sending her into orbit with orgasms.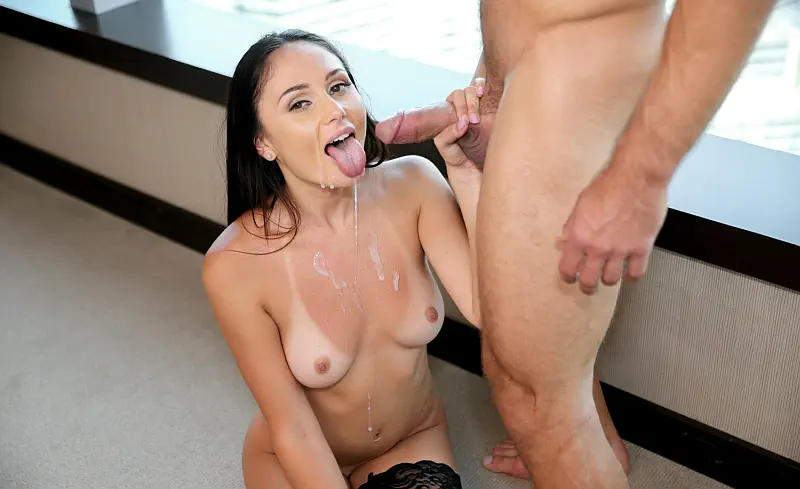 The bit you don't get to see in the free clip (but can see if you click here) is this filthy Latina whore taking a ball busting load of cum all over her beautiful face and tits for the grand finale. This really is a breakfast of champions! 😜